A Differentiated, Sustainable Advantage
With every great breakthrough comes massive opportunity. But how do you recognize a truly genuine opportunity? Simply look for a product with differentiated, sustainable advantage. ASEA is different because it literally has no competitors. And this difference is sustainable because, due to patents that protect its formulation, copycats can't steal market share. And finally, ASEA provides proven and significant health advantages to consumers that can't be found elsewhere.
---
1. First to Market.
ASEA is the fist and only supplement to provide balanced, stabilized Redox Signaling molecules. ASEA is the only source of these vital molecules outside the human body. Its standing is unchallenged, as the process for producing Redox Signaling molecules is so scientifically sound and protected by patents that ASEA stands completely alone in the marketplace.
2. Never-Before-Seen Technology.
ASEA's unique process is patented and protected. And this technology isn't just cutting-edge – it's an entirely new edge. Why is this important? It means that for many years down the road, ASEA will continue to be the only source of balanced, stabilized Redox Signaling molecules. As a result, there won't be any knock-offs or "me-too" products crowding the scene.
3. Unrivaled Leadership.
Verdis Norton, a former VP of Kraft Foods, has few peers in the network marketing field. His foresight, vision, and leadership have made him an invaluable component of some of the world's largest corporations. Now he is utilizing that experience and expertise to mold ASSEA into a product, company, and opportunity unlike any other.
4. Optimal Timing.
More than ever before, today's population is searching for real and proven solutions to prevalent health concerns. While there are a plethora of options for supplements, programs, and products, consumers simply need something that stands apart. ASEA does just that. At the forefront of a huge and expanding wellness industry, now is the perfect time to team up with ASEA.
5. Wide-Ranging Appeal.
ASEA's entirely unique technology and product benefits appeal to a broad range of consumers, particularly parents concerned for the health of their families, athletes seeking enhanced performance, middle-age and older individuals searching for anti-aging benefits, and anyone who is focused on their wellness.
6. Seven Ways To Get Paid.
In your whole life, have you ever been paid 7 different ways at once? Nope. You do a job, you get a paycheck. A single paycheck. But not with ASEA. You do one line of work here, and you can be paid 7 separate ways.
---
---
With ASEA, you can own your own thriving business, backed by a rapidly growing, multinational direct-sales company, leveraging a revolutionary health breakthrough.

You really do have the control. Whether you're a professional looking to opt out of the daily nine-to-five grind, a stay-at-home mom wanting to boost your budget, or an entrepreneur with a desire to build a substantial, full-time residual income, ASEA offers you the chance to achieve your personal and financial goals, building a business that will stand the test of time.
---
Once you have enrolled as an Associate, it is important for you to become active and remain active every month in order to be eligible to earn commissions. You do this by ensuring that, starting out, you have at least 100 Personal Volume (PV) points every single month. ASEA's convenient autoship program, in which ASEA automatically ships your products to you every month, makes this quick and easy. Customer volume will also be included in your Personal Volume.
---
Now that you are active, let's take a look at each of the seven ways that you can earn income:
---
RETAIL SALES
MUST BE ACTIVE, PAID WEEKLY
Purchase ASEA products at wholesale, sell them at retail, and keep the difference.
PREFERRED CUSTOMER BONUS
MUST BE ACTIVE, PAID WEEKLY
Earn $25 on every case purchased on autoship by Preferred Customers
FAST START BONUS
MUST BE ACTIVE, PAID WEEKLY
Earn Fast Start Bonus every time you personally sponsor someone who purchases an ASEA Product Pack during the enrollment process.
DIRECTOR BONUS
MUST BE ACTIVE, PAID WEEKLY
Achieve the rank of Director in 14 or fewer calendar days from the date of your own enrollment and receive a $50* one-time bonus. *See full compensation document for more details.
TEAM COMMISSIONS
MUST BE ACTIVE AND QUALIFIED (BINARY QUALIFIED), PAID WEEKLY
Build two legs in your organization with a minimum of 300 GV in each and earn 10% of the volume in the lesser leg. *See full compensation document for more details including carry over and plan max limits.
EXECUTIVE MOMENTUM BONUS
MUST BE ACTIVE AND QUALIFIED (BINARY QUALIFIED), PAID EVERY FOUR WEEKS
Earn a share of global volume for a limited time as you advance through ASEA's executive ranks (Bronze, Silver, Gold, and Platinum). Funded with 3% of total global CV, the Executive Momentum Bonus pool is shared in tiers based on qualified rank per week for a specified period of time once your shares have been unlocked by two consecutive qualifying weeks at your new rank.
CHECK MATCH
MUST BE ACTIVE WITH 200PV AND QUALIFIED (BINARY QUALIFIED), PAID WEEKLY
Earn check matches on Associates you've personally sponsored, and on the ones they've sponsored, and so on, up to seven generations! *See full compensation document for more details.
---
Income Potential with ASEA
If you're like most people, you're used to relying on a regular paycheck from an employer. But that norm is becoming less and less normal as more and more people are looking for—and creating—multiple income streams.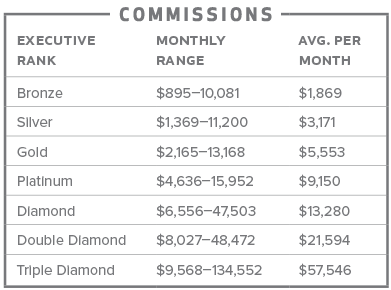 ASEA's generous compensation plan gives you multiple ways to earn. It's a great way to put your residual income plan into place, relying on ASEA's remarkably high retention rate, more than triple the 15–20% industry average.
At every level of ASEA's compensation plan, you can bring in extra income, from a few hundred to a few thousand dollars a month. Average commissions* at ASEA's executive ranks look something like this chart:
The ASEA compensation plan has also supported and rewarded many individuals who have committed themselves full-time to business-building, and as a result, have achieved financial independence. ASEA has even created an elite Million-Dollar Earners Club. The customer base is unlimited, and the powerful, generous commission and bonus structure rewards Associates every step of the way.
*This information is based on 2014 earnings of executive-ranked ASEA Associates. This is not a guarantee of a particular income. Individual results will vary.
---
How do you get started?
Step 1: Visit the following link: Sign Up as a New ASEA Associate
Step 2: Select your required business kit for $40
Step 3: Select your discounted enrollment products: ASEA, RENU 28 or Combo
Step 4: Select your optional Autoship package to receive ASEA monthly at the discounted rate
Step 5: Fill out the online application
Step 6: Click "next" to pay for the product, shipping, taxes and associate fee
Step 7: Enjoy ASEA and if you are still not satisfied after 29 days, you can return the empty bottles back for a full refund!
Any More Questions?
Schedule a private consultation with Dr. Karl Smith to learn more about this opportunity.

---
ASEA Entrepreneur Starter Promo